Supply & Demand for British Riding Schools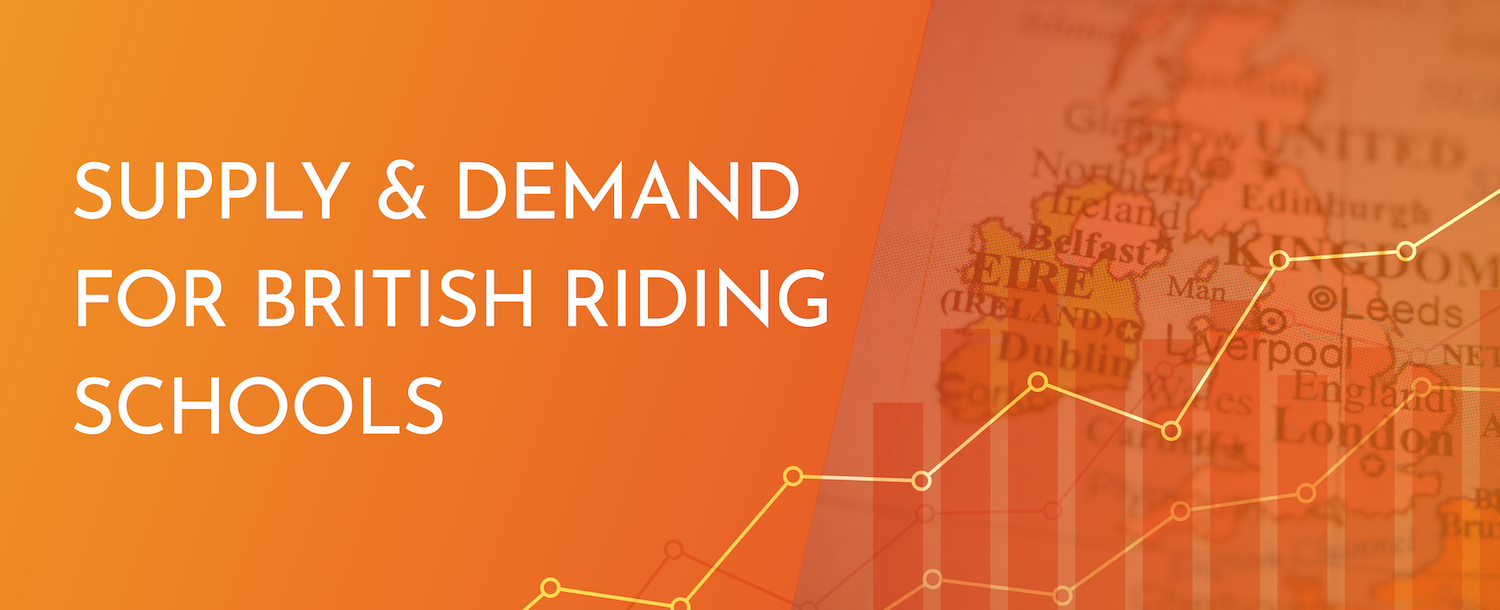 Riding schools are facing increasing challenges, from rising energy costs to a lack of suitable staff, and there is a sense of unease that the industry is going to suffer greatly. But what is the reality of the situation? Is the media inflaming the reality?
British Equestrian (BE) published a review into the health status of the UK's riding centres in 2022. The collaboration between the British Horse Society (BHS), the Association of British Riding Schools (ABRS+), The Pony Club (PC) and Riding for the Disabled Association (RDA), British Equestrian, had an overall aim to help equestrian centres thrive and grow as part of the wider strategic aims of British Equestrian.
Key findings from the BE research:
● Currently centres are operating on average at three-quarter capacity
● Two-thirds are struggling to accommodate enquiries and offer new member places: they are operating waiting lists, with an average of 52 names on the list
● For many with waiting lists, there is more than enough demand for equestrian activity so BE needs to work collaboratively across the sector to ensure centres can convert interest into income.
● Another challenge having an impact on some businesses is licensing requirements and processes. The costs, complexity and time involved are considerable, and this is a source of frustration.
A collaborative approach to raising the profile of Riding Schools; streamlining the licensing process along with standardising it across the country; facilitating a business-focused approach to maximise revenue and ultimately securing the future of the great British Riding school is of utmost importance for the future of the industry and our sport.
Running and managing any business is challenging, but when the business involves working horses and meeting their specific and evolving needs; is reliant on leisure spending and the weather these challenges are expedited. However, our statistics show a much healthier picture for our customers.
30% of EC Pro's UK centres are operating a waiting list function which has an average of 114 people per centre based on October 2022 figures, compared to the 52 from BE's research. This demand shows the potential for significant growth.
British Equestrian Publication:
'ACTION FOUR: Capacity demands – we will conduct further research to gain a better understanding of what capacity issues mean for centres in general, including 'supply and demand' and waitlists, and if there are geographical trends within the United Kingdom.'
Action Four of the BE research is to evaluate if there are geographical trends within the UK for this demand. Our map shows the geographical spread of those EC Pro customers with the highest numbers on their waiting lists based on October 2022 figures.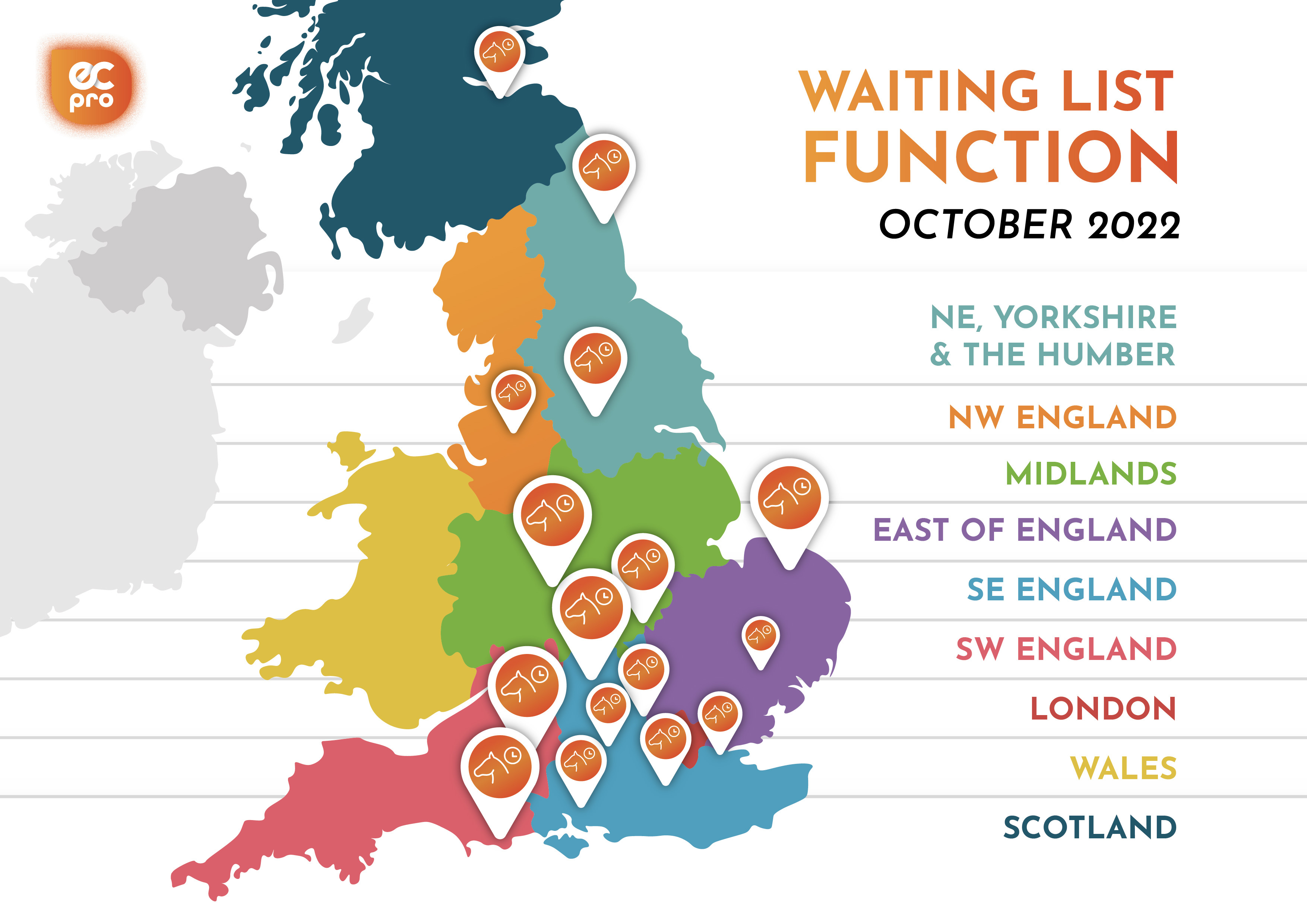 While waiting lists are a great way to manage demand, unless a centre can effectively manage these lists there is little value in them. EC Pro's automated booking system manages these lists on a centre's behalf, maximising the potential of generating revenue and streamlining administrative input.
For example, lessons are booked online, and payments made up front with a centre's cancellation policy forming part of the customer's booking journey. Should a customer cancel their booking, the revenue is not lost as credit is issued rather than refunds and the lesson slot can be re-sold to the waiting list, essentially being sold twice without any loss of capacity. EC Pro's automatic notifications ensure maximum efficiency with reduced administration thus also saving time.
British Equestrian Publication:
'ACTION FIVE: Growth – we will work with our member bodies to pilot projects to provide business support for centres, helping to produce growth plans and better signpost development funding opportunities, including the Together Fund. In addition, work will be done to signpost business support advice and workshops for centres to tap into.'
Action Five seeks to work with member bodies to provide business support to the centres, to include growth plans with the aim of increasing revenue. Our statistics show that by implementing a waiting list and an online management system, centres can maximise their capacity and revenue.
This is supported by EC Pro's cancellation figures for 2022 which showed that 17% of all lessons booked were cancelled. Ordinarily, this could have resulted in a 17% reduction in revenue, however, the requirement of an upfront payment, supported by a robust cancellation policy, meant on average over £33,000 of revenue was protected per centre for the year.
Equally, and in addition to supporting centres, an online booking platform can generate extra revenue through the volume of bookings taken after 7pm, typically when a centre is closed.
2022 saw 25% of all EC Pro centres bookings being taken out of office hours (7pm - 7am).
A recent survey of EC Pro users which had over 2,000 participants in 1 week stated that the most important aspects of a booking system were the ability to book flexibly 24/7 and to be able to pay online. 88% of users were overall satisfied with the EC Pro software as it provides the opportunity to book their riding lessons easily and conveniently. Online booking is standard practice in most areas of life so including horse riding is not out of the ordinary and Riding Schools should not fear introducing a system. We saw a 39% increase in out of hours bookings from 2021 to 2022. People are online and wanting a way to organise their lives in the evenings and EC Pro can help facilitate this for centres.

In conclusion
Riding centres are facing challenges and a collaborative approach to support them will be required for their long-term success. However, increasing income and working more efficiently can be adopted quickly and effectively with the implementation of an industry specific software solution. As Equestrian Tech of the Year winners (The Equestrian Business Awards 2022), EC Pro has been supporting Riding Schools for over 4 years and can demonstrate year on year value to its customers.
EC Pro is working in partnership with a renowned university to further support research into participation within Riding Schools and welcomes further collaborations with industry bodies to assist streamlining and standardising the licensing process.