Riding Schools Benefit from Tech Company Customer Service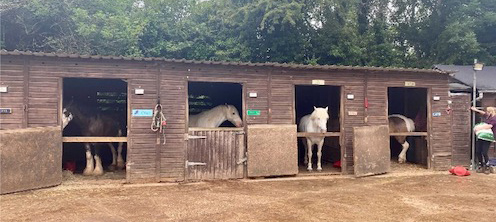 ---
Riding Schools Benefit from Tech Company Customer Service
When you sign up to EC Pro not only do we offer you customer service 7 days a week, but we are also happy to visit you to help with any unsolved questions. Jamie, managing Director and Hannah, customer service assistant visited Kingsmead Equestrian centre in Warlingham.
After a long time in lockdown and supporting our customers via email or on the phone, there was the feeling of excitement from an early alarm clock and a breakfast on the road. Heading from Leighton Buzzard to Kingsmead Riding School was due to take just under 2 hours giving Jamie enough time to chat about all things EC Pro and what the future has in store for the equestrian centre software system, and it's going to be brilliant (even more so) I can assure you of that!
Kingsmead is a riding school with 47 horses and ponies of varying sizes, characters and uses. With 4 schools and a variety of hacking routes, there are lots going on, including pony days, Riding for the Disabled, Pony Club, private and group lessons plus liveries/ boarders.
They signed up to EC Pro in February 2020 and it was lovely to be able to visit the centre and meet the team in person. Jayne, the yard manager, showed us around and let us see behind the scenes of the riding school. I found it particularly interesting from a customer support side to be able to put a visual to the yard which will help when it comes to supporting them in future. Now when Jayne refers to the 'round pen' it gives me the visual and understanding, so I can relate and be of more support!
It's important as a company who has our customers best interests at the front of the business to listen and take on board any aspects the centre may be struggling with or to give our advice on the way we would do things within the system. The advice was given on online lesson bookings, rider registration and all aspects of the stable management system. This was a chance for Jayne to give us some feedback and Centre Owner, Fiona to learn about elements of the system they may not have been using to the full potential, ensuring they were maximising what EC Pro equestrian centre software can offer, including online bookings, our exclusive Facebook community and new features in the pipeline.
With EC Pro developing and helping more and more equestrian centres reach their maximum business potential and the freedom of no travel restrictions hopefully, this was the first of many road trips and we can visit many more of our customers to see behind the scenes of their wonderful riding schools and how EC Pro booking and management system makes their life easier!