Book Your Horse Riding Lessons Online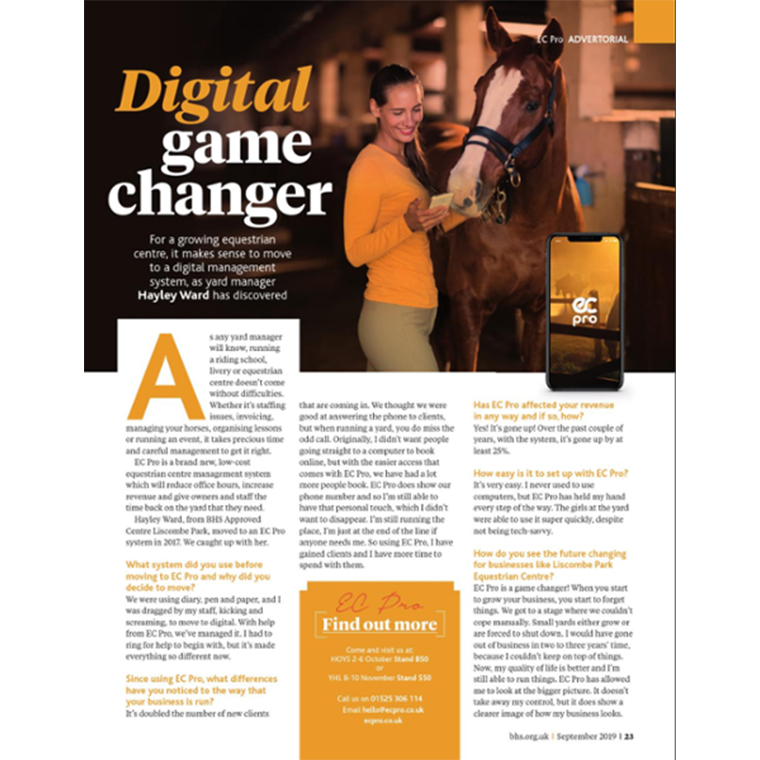 ---
Liscombe Park Equestrian Centre explain the benefits of EC Pro
Hayley Ward from Liscombe Park Equestrian Centre was interviewed a few weeks ago for the September issue of the British Horse Society Magazine. She explained how EC Pro has helped revolutionise the way she runs her busy riding school and livery yard. Helping her get a hold on her administration and increasing revenue at the same time with our intelligent equestrian software management system.
Hayley was originally nervous about moving her equestrian business to an online booking and management system but she has been extremely impressed with the software and both her clients and staff have also found the transition very positive.
We've loved working with Hayley and her team. EC Pro has increased and protected their revenue; helped simplify their workload, with an easy online booking system, riding lessons (group lessons or private lessons) and all lessons and pony days can all be booked by clients themselves now.
We wish them every continued success.
Story covered by The British Horse Society (BHS) who have been in operation since 1947 and have grown to become the largest and most influential equestrian charity in the UK. They work hard to make a real impact to riders and horses in areas such as education, horse welfare, safety and access. They also provide an extensive list of approved riding centres in the UK which is ideal for children and adults wanting to learn to ride.
The BHS also offers a wealth of benefits for the equestrian community as part of your membership including free and discounted tickets to events, public liability insurance, career opportunities and not forgetting access to their great magazine.
Receive your copy by joining the BHS.